With cooler weather coming the knitting bug has hit again. I've mostly been knitting gifts, but it has led to another great development that I think knitters will love! Personalized stitch markers! There's a whole new section in my shop to showcase them. I hand-stamp them myself, so you can get them completely personalized with your own messages on them! Great for yourself or someone else!
Here are some examples of how I used mine:
Here I'm following a particularly tricky lace pattern (with patterning on both sides). So I decided that in addition to using a sticky note to mark my spot on the pattern, I needed to use the stitch markers to indicate which row I have completed. That way, if my sticky note blows off (which it has definitely done), I can still figure out what row of the pattern repeat I'm on. It's pretty helpful.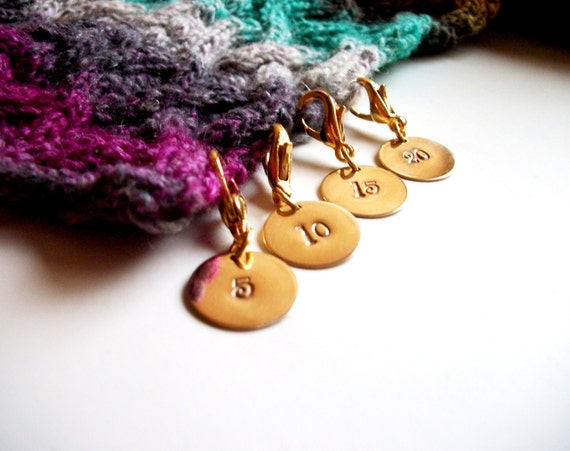 Here I'm using my solid-brass, row-counter stitch markers in multiples of five. But if you'd like other multiples, like twos, that's not a problem!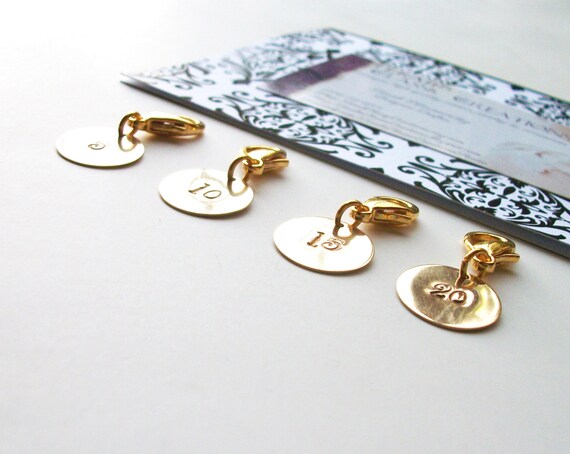 This is the set as it looks in my shop. If you'd like your own, just click on the picture above. If you'd like something completely custom, i.e., different numbers, more stitch markers in a set, etc. Just contact me through my shop - I'm happy to talk to you!
Here are some other stitch marker sets I have available too. These are great because I customize them with your wording in addition to what's shown here:
AND since I've been in the knitting mood lately I'm also having a special SALE on all my hand-knits! Get 30% off one-of-a-kind, hand-knit accessories only through September 20th! You don't even need a coupon code, the discount is automatic!
SO HAVE FUN!
P.S. If you'd like to receive these messages via e-mail (that is if you aren't already), you can join my mailing list here:
http://eepurl.com/PNYE9
. Don't worry - I promise not to bug you too much :-).
Terah